From March – October 2019, Envision Utah conducted a highly inclusive community engagement process to develop a holistic understanding of the players and forces involved in the development of Utah's Inland Port.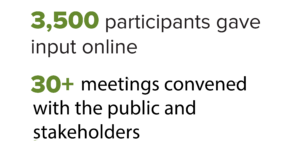 The public engagement process consisted of two phases that involved gathering input from stakeholders and members of the public and convening six topic-specific working groups:
Air Quality
Environment, Recreation, and Habitat
Workforce, Education, and Corporate Recruitment
Roads, Rail, and Air
Transportation and Port Technology
Satellite Port Development
In October 2019, Envision Utah released the Public Engagement Report outlining the most important concerns and priorities for the future of the UIPA jurisdictional area. Air quality, wetland and habitat impacts, and traffic were the top concerns identified by the community and stakeholders.
Policy scenario themes were developed for modeling based on feedback from working groups. An open house and comment period were held in December 2019 to assess the scenarios, which were then modeled by CPCS Transcom Inc to present a spectrum of plausible policy approaches. This conceptual exercise informed the development of the Strategic Business Plan.